Mustafa Zihni: His Life, Administrative and Cultural Roles in Ottoman Empire
Keywords:
Babanzadah Mustafa Zihni, the Ottoman State, State Administration, Babanzadah
Abstract
Mustafa Zihni is a son of Hussain Beg from Baban Clan (family), who was born in Sulaimanyiah in (1266 AH- 1850 A.D.), He studied fundamentals of sciences at school, and he was tutored Islamic Law (Jurisprudence) and languages such as: Turkish, Arabic, and Persian, so he could speak Kurdish, Arabic, Persian, and write in Turkish. He was a significant statesman in the Ottoman State, he took vital administrative posts as Wāli and a resident governor (mutasarif) through his entire life. The most important locations he held position of resident governor were: Karbala, Qozan, Gumushkhana, Barat, Burdur, Tarablus of Sham, Antalya, Bolu. Later, He was also appointed as Wāli in Adana, Yaniya and Hijaz. Needless to say, he was one of the distinguished features in the Ottoman State administration in the end of 19th century and the beginning of 20th century. In addition to his administrative roles and duties, he authored many books, and published in Ottoman Turkish; such as (Ilm w Islam, Islamda Khalafat, Qawai Maanawya, Tawsia Mazuniyat. It is worth mentioning that Mustafa Zihni had six children, his sons played vital role in the fields of education, journalism, culture, and administration in the Ottoman State. His most prominent son was Babanzadah Ahmmad Naaim, who taught philosophy and psychology in Istanbul University, he was the first one who translated (Sahih Bukhari) from Arabic into Ottoman Turkish, he also translated philosophical concepts from French. Ismail Haqii Babanzadah, another son of his, who was then one of the well-known journalist and author in his in Istanbul. He also held the post of minister of education. However; during the establishment of Turkey republic, he was offered many administrative posts, but he rejected them and preferred having solitude life for the rest of his life, He passed away in 1929 in Istanbul, and he was buried in (Adrna Qapi) graveyard.
References
١.١. بەڵگەنامەی بڵاونەکراوەی ئەرشیفی عوسمانی :
"BOA. DH. Memur sicil zarflary( SAİD. MEM.). Dos/Göm. nr. 4/442-443."
٢.١ سەرچاوەکان بە زمانی کوردی:
محەمەد ئەمین زەکی، تەئریخی سلێمانی وە وڵاتی لەدەورەی زۆر قەدیمەوە تا ئەوەڵی ئیحتیلال (١٩١٨م)، سەرجەمی بەرهەمی ئەمین زەکی، بەرگی سێیەم، ئامادەکردنی ڕەفیق سالەح، بنکەی ژین، سلێمانی ٢٠٠٦.
٣.١ سەرچاوە بەزمانی تورکی عوسمانی:
مصطفی ذهنی، علم و اسلام، برنجی طبع، ( ابو الضیا) مطبعەسی، قسطنطینیە ١٣١٦.
، توسیع ماذونیت، محمود بک مطبعەسی، استانبول ١٣٢٤.
، صواب الکلام فی عقائد الاسلام ، محمود بک مطبعەسی، در سعادت ١٣٢٧.
، اسلامدە خلافت، (ابو الضیا) ( قسطنطینیە ١٣٢٧.
، قوی مەعنویە، (عالم – احمد احسان شرکاسی) استانبول ١٣١٥.
٤.١ سەرچاوەکان بەزمانی تورکی نوێ:
Davut Hut, «II Meşrütiyet Döneminde Bir Osmanlı Entelektüeli Babanzade İsmail Hakkı (1876-1913).» Prof. Cevdet Küçük Armağanı, Tarihimizden portretler Osmanlı kimliği, Editörler, Zekeria Kurşun - Haydar Çoruh içinde, İstanbul: ORDAF, 2013.
Edip Bukarlı, 19 Yüzyıl Osmanlı Devlet Adamı Babanzade MUstafa Zihninin Hayatı ve İlim Kişiliği, LİBRA Kitapçılık ve yayıncılık, İstanbul 2019.
Fatıma Yıldız, Bananzade Ahmet Naim'in "İlmü"N-Nefs" adlı eserinin tahlili ve Ceviri yazısı, yüksek lisan tez, tez danışmanı, Recep Alpyağıl, İstanbul Üniversitesi, 2014, : basılmamış.
Faysal Mayak, « Babanzade İsmail Hakkı Beyin gözünden Osmanlı Develtinin iç ve dış politicası(1908-1913), Doktora Tez, Danışman, Doç,Dr.Salih Tünç, Trih ana bilim dalı, Antalya 2019, basılmamış.
Hüseyin Hansu, Sacedede biten bir ömür, Babanzade Ahmet Naim Bey, Din Hayat 58. Ekim 2015.
Hüseyin Özdemir, Babanzade İsmail Hakkı Beyin Meşrütiyet Düşüncesi, Yüksek lisans tezi, Danışman, Doç, Dr. Yüksek Çelik, Marmara Üniversitesi 2015, basılmamış.
Kara ismail Cünyet Kaya, Rüsuh ve İstikamet sahibi bir Zat, Babanzade Ahmet Naim hayatı ve Eserleri ,Editörler, M. Cünyet Kaya, Kara ismail , İstanbul, Auğust2015.
M. Cevdet İnançalp, Müderris Ahmet Naim, Ülkü Matbaası, İstanbul 1935.
Recep Kılıç, İslam ahlakının esasleri, notlar ilave ederek sadeleştiren Prof. Dr. Recep Kılıç, Türkiye diyanet vakfı, 2 bask, Ankara 2014.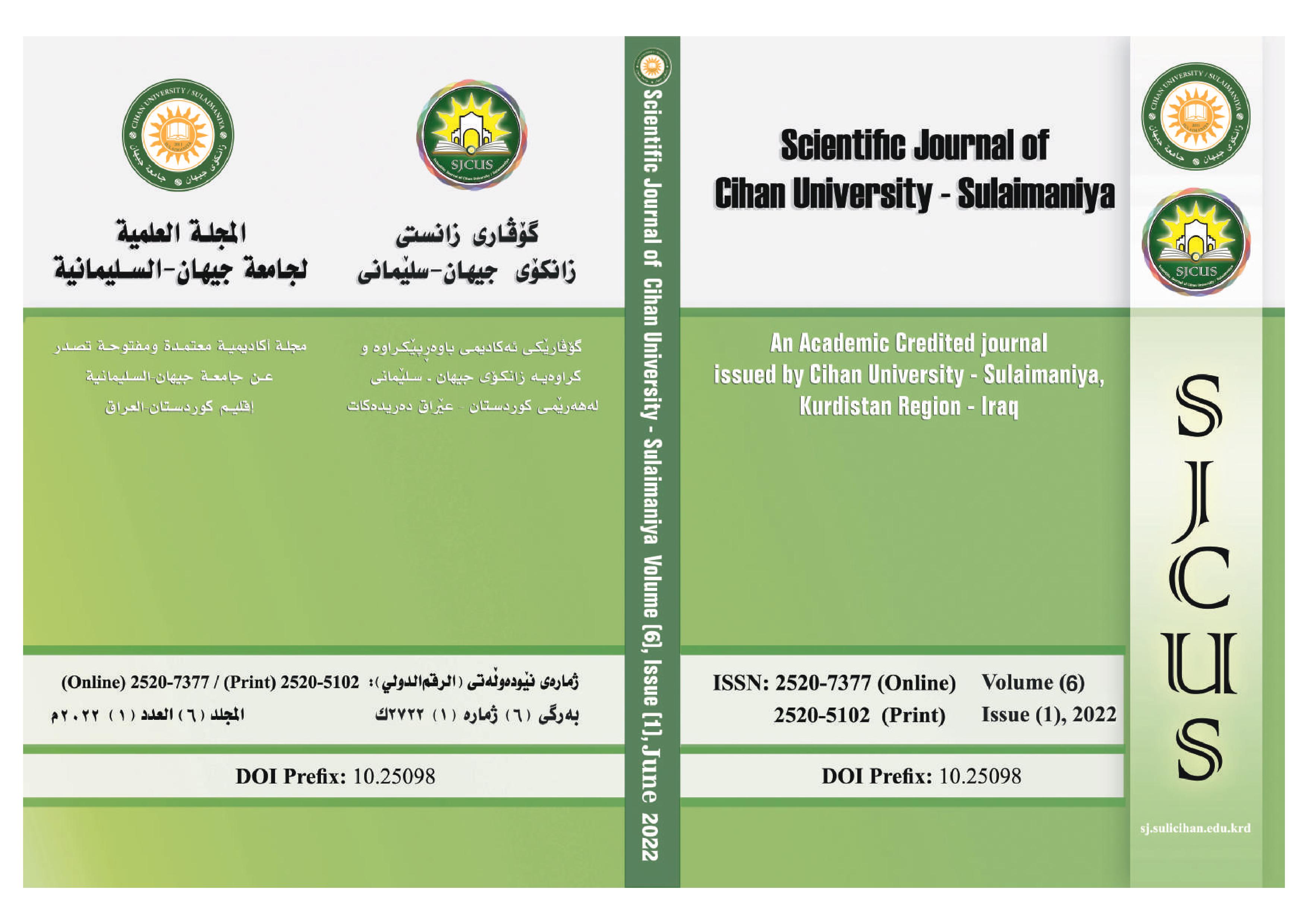 Downloads
How to Cite
ڕەشید س. م. . . (2022). Mustafa Zihni: His Life, Administrative and Cultural Roles in Ottoman Empire. The Scientific Journal of Cihan University– Sulaimaniya, 6(3), 40-59. https://doi.org/10.25098/6.3.3
Section
Volume 6 Issue 3 (Special Issue)
License
Copyright (c) 2022 The Scientific Journal of Cihan University– Sulaimaniya
This work is licensed under a Creative Commons Attribution-NonCommercial-NoDerivatives 4.0 International License.
SJCUS's open access articles are published under a Creative Commons Attribution CC-BY-NC-ND 4.0 license.